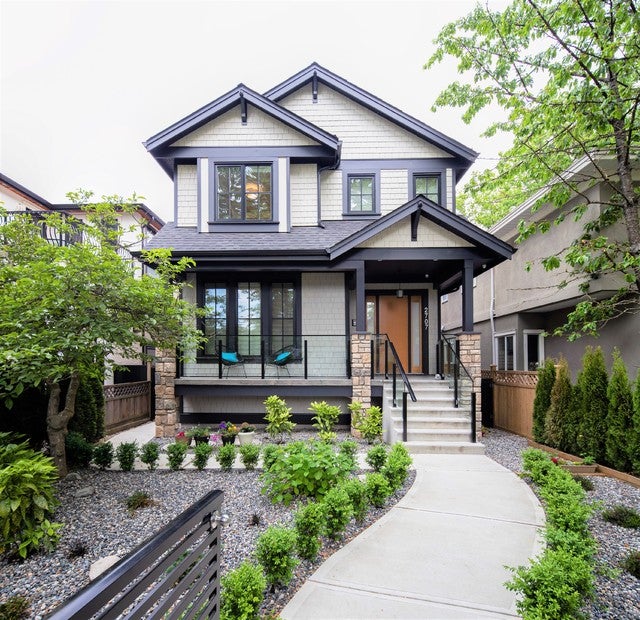 Are you in search of a vibrant neighborhood in Vancouver that combines urban living with a touch of nature? Look no further than Kitsilano, a highly desirable area known for its beautiful houses and unparalleled lifestyle. In this article, we'll explore the charm and appeal of Kitsilano, and dive into the world of Kitsilano houses for sale. Whether you're a young professional, a growing family, or someone seeking a serene and trendy place to call home, Kitsilano offers an array of options to suit your needs.
Kitsilano: A Gem in Vancouver
Located on the West Side of Vancouver, Kitsilano, or "Kits" as locals affectionately call it, is a neighborhood that effortlessly combines natural beauty, a vibrant community, and convenient amenities. Kitsilano is bordered by English Bay to the north, 16th Avenue to the south, Burrard Street to the east, and Alma Street to the west.
Kitsilano houses are renowned for their unique charm, character, and architectural styles. From classic heritage homes to contemporary designs, Kitsilano offers a diverse range of houses that cater to different tastes and preferences. Here's why Kitsilano houses are highly sought after:
Prime Location: Kitsilano's proximity to downtown Vancouver and its stunning coastline makes it a highly desirable neighborhood. Residents enjoy easy access to the city's vibrant downtown core, employment opportunities, and world-class amenities.
Natural Beauty: Kitsilano is blessed with picturesque surroundings. From breathtaking mountain views to nearby beaches, residents can revel in the beauty of their natural surroundings. Kitsilano Beach and Jericho Beach are popular spots for sunbathing, picnicking, and enjoying water activities.
Lifestyle and Recreation: Kitsilano offers an active and engaging lifestyle. Residents can explore the numerous parks, bike paths, and walking trails in the area. Kitsilano also boasts a lively community center that offers various programs and activities for all ages.
Shopping and Dining: Kitsilano's West 4th Avenue, also known as West 4th or Kitsilano Village, is a vibrant hub filled with boutique shops, trendy restaurants, and cafes. Residents can indulge in a diverse range of culinary experiences and find unique treasures while strolling along the lively streets.
Excellent Schools: Families with children will appreciate the presence of top-rated schools in Kitsilano. Bayview Elementary and Kitsilano Secondary School are among the reputable educational institutions that provide a high standard of education.
Frequently Asked Questions (FAQs)
Q: How much do houses in Kitsilano typically cost?
A: The cost of houses in Kitsilano can vary depending on factors such as size, location, condition, and architectural style. As of the most recent data, the average price for a house in Kitsilano is around $2.5 million. However, it's important to consult with a local real estate agent to get accurate and up-to-date pricing information.

Q: Are there any heritage houses available in Kitsilano?
A: Yes, Kitsilano is known for its heritage houses, which showcase the neighborhood's rich history and architectural heritage. Many of these houses have been carefully preserved or renovated to maintain their original charm. If you're a fan of vintage aesthetics, Kitsilano might have the perfect heritage house for you.

Q: Are there houses with outdoor spaces in Kitsilano?
A: Absolutely! Many houses in Kitsilano offer outdoor spaces such as gardens, patios, or balconies, allowing residents to enjoy the beautiful Vancouver weather and create their own private oasis.

Q: Can I find newly built houses in Kitsilano?
A: While Kitsilano is known for its character homes, there are also newly built houses available in the area. These modern houses often feature contemporary designs, state-of-the-art amenities, and efficient floor plans. Consulting with a local real estate agent can help you find newly constructed houses that meet your preferences.

Q: What are the transportation options in Kitsilano?
A: Kitsilano is well-connected to the rest of Vancouver through various transportation options. Public transit buses run frequently in the area, providing easy access to downtown and other parts of the city. Kitsilano is also bike-friendly, with dedicated bike lanes and paths, making cycling a popular mode of transportation.

Q: How can I find the right house in Kitsilano?
A: To find your dream house in Kitsilano, it's recommended to work with a local real estate agent who specializes in the area. They will understand your preferences, budget, and lifestyle requirements, and guide you through the process of finding and purchasing a house that suits your needs.

Kitsilano is a neighborhood that seamlessly blends the best of urban living with natural beauty. With its stunning houses, vibrant community, and proximity to amenities and outdoor recreational opportunities, Kitsilano offers an exceptional lifestyle for its residents. Whether you're captivated by the charm of heritage houses or seek the modern comforts of newly built homes, Kitsilano has something for everyone. Begin your journey of finding the perfect Kitsilano house by reaching out to a local real estate agent who can help turn your dream into reality.