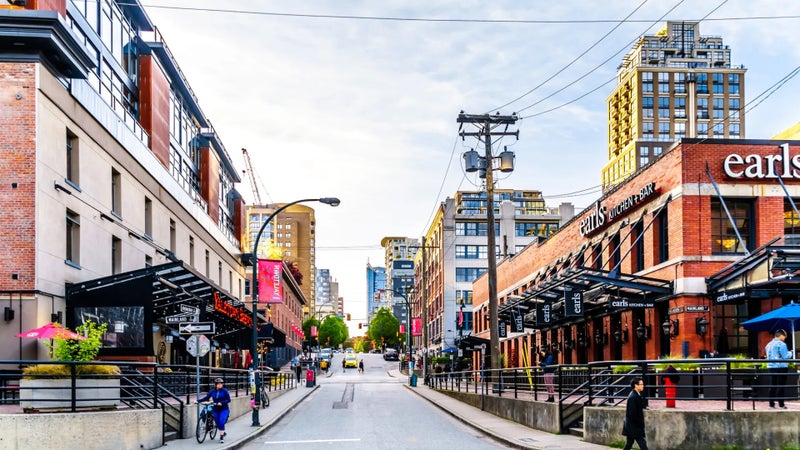 Are you ready to embark on an exciting journey to find your dream home in the vibrant neighborhood of Yaletown? Known for its trendy restaurants, upscale boutiques, and stunning waterfront views, Yaletown offers a unique blend of urban living and natural beauty. Whether you're a first-time buyer or an experienced investor, this comprehensive guide will equip you with the knowledge and resources to navigate the Yaletown real estate market with confidence. Let's dive in and discover what Yaletown has to offer!
Table of Contents
Introduction
Why Choose Yaletown?
Understanding the Yaletown Real Estate Market
Exploring Yaletown Neighborhoods
Types of Properties in Yaletown
Finding a Real Estate Agent in Yaletown
The Buying Process
The Selling Process
Financing Your Yaletown Home
Yaletown Real Estate Market Trends
Top Tips for a Successful Real Estate Transaction in Yaletown
Frequently Asked Questions
Conclusion
Introduction
Welcome to Yaletown, one of Vancouver's most sought-after neighborhoods! Situated in the heart of the city, Yaletown offers an unbeatable urban lifestyle with a touch of sophistication. With its vibrant atmosphere, picturesque waterfront, and proximity to popular attractions, it's no wonder that Yaletown real estate is highly coveted.
In this guide, we will explore the ins and outs of the Yaletown real estate market, provide valuable tips for buying or selling a property, and shed light on the current market trends. Whether you're searching for a cozy condo with breathtaking views or a spacious loft in a converted heritage building, Yaletown has something to offer for everyone.
Why Choose Yaletown?
Yaletown's allure goes beyond its trendy restaurants and upscale boutiques. Living in Yaletown means being at the center of Vancouver's vibrant social scene and having easy access to a wide range of amenities and attractions. Here are a few reasons why you should consider choosing Yaletown as your next home:
Unbeatable Location:
Nestled along the False Creek waterfront, Yaletown offers the perfect blend of urban convenience and natural beauty. With its proximity to downtown Vancouver, you'll enjoy easy access to world-class shopping, dining, entertainment, and employment opportunities.
Stunning Waterfront Views:
Imagine waking up to breathtaking views of the water and enjoying evening strolls along the seawall. Yaletown's prime waterfront location offers residents unparalleled vistas and a tranquil escape from the hustle and bustle of the city.
Diverse Housing Options:
From sleek high-rise condominiums to charming heritage conversions, Yaletown boasts a diverse range of housing options to suit different tastes and budgets. Whether you're a young professional, a growing family, or a downsizing empty-nester, you'll find a home that meets your needs.
Thriving Lifestyle Scene:
Yaletown is renowned for its vibrant lifestyle scene. With a myriad of trendy restaurants, cozy cafes, and fashionable boutiques, there's always something new and exciting to explore. The neighborhood also hosts a variety of events and festivals throughout the year, ensuring that there's never a dull moment.
Understanding the Yaletown Real Estate Market
Before delving into your home search, it's essential to have a solid understanding of the Yaletown real estate market. Being informed about current trends, average prices, and market conditions will empower you to make well-informed decisions. Here are a few key factors to consider:
Market Conditions in Yaletown
The Yaletown real estate market has experienced steady growth over the past few years. With its prime location and desirable lifestyle, demand for properties in Yaletown remains high. However, it's crucial to stay updated on market conditions to make strategic decisions. Working with a knowledgeable real estate agent who specializes in Yaletown will provide you with valuable insights and ensure that you're well-positioned in the market.

Average Home Prices in Yaletown
Yaletown offers a range of housing options, and prices can vary significantly depending on factors such as location, size, and amenities. As of the latest data available, the average price for a condo in Yaletown is approximately $1.2 million. Keep in mind that prices may fluctuate, so it's advisable to consult with a real estate professional for the most up-to-date information.
Inventory Levels
Yaletown's popularity means that the inventory of available properties may be limited at times. Desirable properties can sell quickly, so it's essential to stay proactive and work with an agent who has access to the latest listings. They can help you identify new opportunities as soon as they hit the market, increasing your chances of finding your dream home.
Exploring Yaletown Neighborhoods
One of the exciting aspects of searching for real estate in Yaletown is exploring its unique neighborhoods, each with its own charm and character. Whether you prefer a bustling urban vibe or a quieter residential atmosphere, there's a neighborhood in Yaletown that suits your lifestyle. Here are a few neighborhoods worth considering:
1. Historic Yaletown
Historic Yaletown is the heart and soul of the neighborhood. This former warehouse district has been transformed into a trendy residential area, featuring beautifully restored heritage buildings and cobblestone streets. Here, you'll find a mix of luxurious condos, stylish lofts, and heritage conversions, offering a glimpse into Yaletown's past while providing all the modern comforts.
2. False Creek North
Situated along the picturesque False Creek waterfront, False Creek North offers a tranquil and scenic living environment. This neighborhood is known for its stunning water views, lush green spaces, and proximity to the seawall. False Creek North is home to a variety of high-rise and low-rise buildings, providing residents with a range of housing options.
3. Marinaside Crescent
If you're a boating enthusiast or simply enjoy being close to the water, Marinaside Crescent is the neighborhood for you. This waterfront community offers a unique blend of residential and marine life, with stunning marina views and a vibrant atmosphere. Marinaside Crescent is predominantly composed of high-rise condominiums, many of which offer expansive balconies to fully embrace the waterfront lifestyle.
4. Beach District
True to its name, the Beach District is all about coastal living. This neighborhood is located along the west end of Yaletown, offering easy access to English Bay and the world-famous Stanley Park. Beach District's real estate landscape includes luxurious high-rise towers, some of which boast spectacular ocean views, as well as townhouses and low-rise buildings.

Types of Properties in Yaletown
Yaletown offers a diverse range of properties, ensuring that there's something to suit every lifestyle and preference. Whether you're looking for a cozy one-bedroom condo or a spacious family home, you'll find plenty of options in Yaletown. Here are the main property types to consider:
1. Condominiums
Condominiums or Condos are the most prevalent property type in Yaletown. These modern living spaces come in various sizes, from compact studios to expansive penthouses. Condos in Yaletown often feature open-concept layouts, high-end finishes, and amenities such as fitness centers, concierge services, and rooftop terraces. They offer a low-maintenance lifestyle, making them ideal for busy professionals or those seeking a lock-and-leave property.
2. Townhouses
For those who desire more space and a traditional house-like feel, Yaletown also offers townhouses. These multi-level units often feature private entrances, outdoor patios or balconies, and the convenience of attached garages. Townhouses provide a sense of privacy and offer additional square footage, making them a popular choice for families or individuals looking for a larger living space.
3. Heritage Conversions
Yaletown's rich history is beautifully preserved in its heritage conversions. These unique properties are often located in historic buildings that have been repurposed into stylish and modern living spaces. Heritage conversions offer a blend of old-world charm and contemporary design, with features such as exposed brick walls, high ceilings, and large windows. If you appreciate architectural character and a sense of nostalgia, a heritage conversion might be the perfect fit for you.
4. Luxury Homes
Yaletown is also home to an array of luxury properties that cater to the most discerning buyers. These high-end homes often occupy prime waterfront locations or offer panoramic city views. Luxury homes in Yaletown boast top-of-the-line finishes, spacious floor plans, and exclusive amenities such as private elevators, wine cellars, and outdoor entertaining areas. If you're seeking the epitome of sophistication and luxury, Yaletown has a selection of properties to fulfill your desires.
Finding a Real Estate Agent in Yaletown
Navigating the real estate market can be a complex and time-consuming process, especially in a highly competitive neighborhood like Yaletown. That's why it's essential to partner with a reputable and experienced real estate agent who specializes in the area. A knowledgeable agent will not only provide you with access to the latest listings but will also offer invaluable guidance throughout the buying or selling process.
When selecting a real estate agent in Yaletown, consider the following factors:
Experience and Expertise: Look for an agent who has extensive experience in the Yaletown real estate market. They should possess in-depth knowledge of the neighborhood, current market trends, and the intricacies of real estate transactions.
Reputation and Track Record: Research the agent's reputation and read reviews or testimonials from past clients. A track record of successful transactions and satisfied customers is a good indicator of their professionalism and dedication to client satisfaction.
Communication and Accessibility: Effective communication is crucial when working with a real estate agent. Ensure that they are responsive, accessible, and willing to listen to your needs and preferences. A reliable agent will keep you updated throughout the process and promptly address any concerns or questions you may have.
Negotiation Skills: Buying or selling a property often involves negotiations. Choose an agent who is a skilled negotiator and will advocate for your best interests. Their ability to navigate negotiations can make a significant difference in securing the best deal possible.
Remember to interview multiple agents and ask questions to determine who is the best fit for your specific requirements. Working with the right agent will streamline your real estate journey and increase your chances of finding success in the Yaletown market.

The Buying Process
Congratulations! You've made the decision to embark on the exciting journey of
buying a home in Yaletown
. While the process may seem daunting at first, understanding the steps involved will help you navigate with confidence. Here's an overview of the buying process:
1. Determine Your Budget
Before beginning your home search, it's crucial to establish your budget. Take into account factors such as your down payment, mortgage pre-approval, and additional costs such as property taxes and closing fees. Setting a realistic budget will help you focus your search on properties within your financial means.
2. Define Your Needs and Wants
Consider your lifestyle, preferences, and long-term goals when defining your needs and wants in a home. How many bedrooms and bathrooms do you require? Do you need outdoor space? What amenities are important to you? Having a clear understanding of your priorities will streamline your search and help you find a property that aligns with your vision.
3. Begin Your Property Search
Now that you have a budget and know what you're looking for, it's time to start your property search. Work closely with your real estate agent to identify suitable listings that meet your criteria. Attend open houses, schedule private showings, and explore virtual tours to get a feel for the properties you're interested in.
4. Make an Offer
Once you've found the perfect home, it's time to make an offer. Your real estate agent will guide you through the process, helping you determine a fair and competitive offer price. They will also handle negotiations with the seller on your behalf, aiming to secure a favorable deal.
5. Conduct Due Diligence
Once your offer is accepted, it's essential to conduct due diligence to ensure the property meets your expectations and is free from any major issues. This may involve hiring a home inspector, reviewing the strata documents (if purchasing a condo), and researching the property's history. Your real estate agent will assist you in navigating this stage and provide guidance on any potential concerns that may arise.
6. Secure Financing and Close the Deal
Once you're satisfied with the property's condition and have completed all necessary inspections, it's time to secure financing. Work with your lender to finalize your mortgage arrangements and ensure you have the necessary funds for the down payment and closing costs. Your real estate agent will guide you through the final paperwork and ensure a smooth closing process.
Congratulations! You're now the proud owner of a Yaletown property. Enjoy the excitement of settling into your new home and embrace the vibrant lifestyle that Yaletown has to offer.
The Selling Process
If you're considering
selling your Yaletown property
, it's essential to understand the selling process to maximize your chances of a successful transaction. Here's an overview of the steps involved:
1. Determine Your Selling Strategy
Before listing your property, it's crucial to determine your selling strategy. Work with your real estate agent to establish a competitive listing price based on current market conditions and comparable sales in the area. Consider factors such as your desired timeline, any necessary repairs or renovations, and your target buyer demographic.
2. Prepare Your Property
Ensure that your property is in optimal condition to attract potential buyers. Declutter, deep clean, and stage your home to showcase its best features. Enhance curb appeal by maintaining the exterior and creating an inviting entryway. Your real estate agent can provide valuable tips and recommendations for preparing your property for sale.
3. Market Your Property
Effective marketing is key to attracting potential buyers. Your agent will create a comprehensive marketing plan that may include professional photography, virtual tours, online listings, open houses, and targeted advertising campaigns. The goal is to generate interest and exposure for your property, maximizing its visibility in the market.
4. Review Offers and Negotiate
As offers start coming in, your real estate agent will present them to you for review. They will guide you through the negotiation process, aiming to secure the best possible terms and price for your property. Their expertise in negotiations will help you navigate counteroffers and ensure a favorable outcome.
5. Complete the Sale
Once you've accepted an offer, the buyer will conduct due diligence, which may include a home inspection, financing verification, and review of strata documents (if applicable). Your agent will assist you in managing these processes and providing any necessary documentation. Once all conditions are met, and the buyer's financing is confirmed, the sale will proceed to completion.
6. Close the Deal
On the closing day, legal and financial procedures will be finalized. The buyer will provide the remaining funds, and the property's ownership will be transferred. Your real estate agent and legal representatives will ensure all necessary paperwork is in order, and the transaction is completed smoothly.
Selling your Yaletown property can be a rewarding experience with the guidance of a knowledgeable real estate agent. By understanding the selling process and working closely with your agent, you can achieve a successful sale and move on to the next chapter of your real estate journey.

Frequently Asked Questions (FAQs)

Q: What makes Yaletown a desirable neighborhood for real estate?
A: Yaletown's prime location, vibrant lifestyle scene, and diverse housing options make it a highly desirable neighborhood for real estate. Its proximity to downtown Vancouver, waterfront views, and trendy amenities attract buyers from various demographics.


Q: Are there any green spaces or parks in Yaletown?
A: Yes, Yaletown offers several green spaces and parks for residents to enjoy. David Lam Park and George Wainborn Park are two popular waterfront parks that provide beautiful settings for outdoor activities and leisurely strolls.

Q: Are there schools in Yaletown?

A: 

Elsie Roy Elementary is a public elementary school in Vancouver and part of School District 39 Vancouver. It is located along the waterfront of Yaletown and is the first new elementary school to be opened in an inner-city Vancouver neighborhood since 1975.




Q: Is Yaletown pet-friendly?
A: Yes, Yaletown is known for being a pet-friendly neighborhood. Many buildings and establishments welcome pets, and there are several parks and green spaces where residents can enjoy outdoor activities with their furry companions.


Q: What are the transportation options in Yaletown?
A: Yaletown benefits from excellent transportation connectivity. Residents can easily access public transit, including buses, SkyTrain stations, and the Aquabus and False Creek Ferries. The neighborhood is also pedestrian and cyclist-friendly, with dedicated paths and bike lanes.


Q: What amenities and services are available in Yaletown?
A: Yaletown offers a plethora of amenities and services, including trendy restaurants, cafes, boutique shops, fitness centers, and professional services. Residents have easy access to grocery stores, healthcare facilities, and a wide range of entertainment options.
Conclusion
Yaletown real estate
presents an exciting opportunity for individuals seeking a vibrant urban lifestyle in one of Vancouver's most desirable neighborhoods. With its prime location, diverse housing options, and a thriving community, Yaletown offers something for everyone.
Whether you're looking to buy or sell a property in Yaletown, partnering with a reputable real estate agent is essential. Their expertise, market knowledge, and negotiation skills will guide you through the process and increase your chances of a successful transaction.
So, start exploring the dynamic world of Yaletown real estate, and embrace the urban sophistication and convenience that this remarkable neighborhood has to offer.