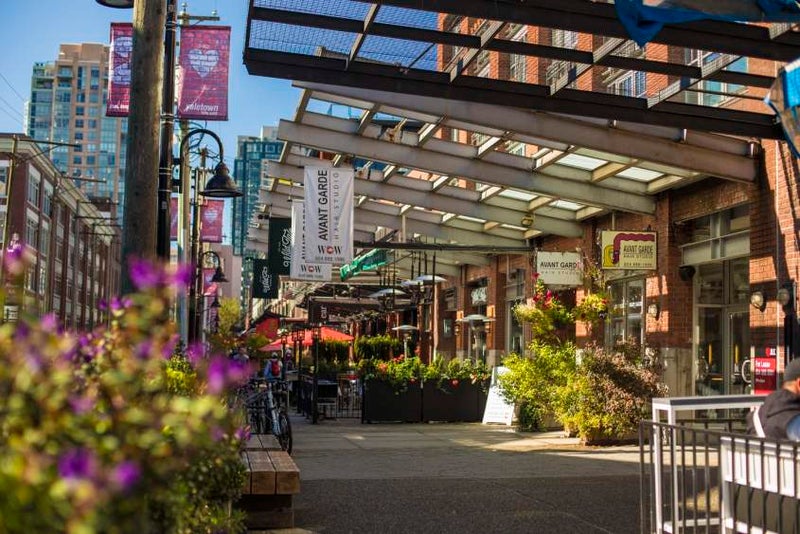 Welcome to Yaletown, the crown jewel of Vancouver's real estate market. With its prime location, stunning waterfront views, and a plethora of amenities, Yaletown has become the most sought-after neighborhood for those seeking the pinnacle of luxury living. If you are in the market for a condo that combines style, convenience, and exclusivity, you've come to the right place. In this article, we will delve into the world of Yaletown condos for sale, exploring the unique features, lifestyle benefits, and investment potential that await you in this vibrant neighborhood.
Yaletown Condos for Sale: A Haven of Luxury and Style
Living in Yaletown offers a truly unparalleled experience, where residents can revel in a harmonious blend of urban sophistication and natural beauty. The neighborhood's sleek high-rise condos boast modern designs, spacious layouts, and breathtaking panoramic views of the city skyline, False Creek, and the surrounding mountains. With an emphasis on high-quality finishes and top-notch amenities, Yaletown condos redefine luxury living.
1. The Benefits of Living in Yaletown
When you invest in a Yaletown condo, you gain access to a myriad of advantages that contribute to a truly exceptional lifestyle. Let's explore some of the key benefits:
Unbeatable Location and Connectivity
One of the major draws of Yaletown is its central location. Situated on the downtown peninsula, it offers easy access to the city's most vibrant areas, including Robson Street, Gastown, and Granville Island. Residents can enjoy a short walk to world-class restaurants, trendy boutiques, art galleries, and a thriving nightlife scene. Moreover, Yaletown is well-connected to public transportation, making it convenient to explore other parts of Vancouver.



Waterfront Living at its Finest
Yaletown is bordered by False Creek, providing residents with a captivating waterfront lifestyle. Stroll along the seawall, go for a jog, or simply relax in one of the neighborhood's beautiful parks while soaking in the scenic views. Waterfront living in Yaletown offers a perfect balance between tranquility and urban energy.


Amenities Galore
Yaletown condos are renowned for their top-of-the-line amenities, which often include fitness centers, swimming pools, spa facilities, concierge services, and communal spaces for socializing and entertaining guests. Residents can indulge in a luxurious lifestyle without even leaving the building.

2. Investment Opportunities in Yaletown
Beyond the lavish lifestyle it offers, Yaletown also presents excellent investment opportunities. The neighborhood's popularity and continued growth make Yaletown condos a smart investment choice. Here's why:


Appreciating Property Values
Yaletown has experienced steady appreciation in property values over the years. Its desirable location, ongoing development projects, and limited supply of high-end condos contribute to a robust real estate market. Investing in a Yaletown condo allows you to tap into this growth potential.


Rental Demand
Yaletown is a hotspot for renters, attracting young professionals, executives, and those seeking an urban lifestyle. The area's proximity to major business districts and desirable amenities make it highly desirable for tenants. Purchasing a condo as an investment property in Yaletown can provide a steady stream of rental income.


Short-Term Rentals
With the rise of platforms like Airbnb, short-term rentals have become a popular choice for homeowners. Yaletown condos offer an attractive option for short-term rentals due to their central location and luxurious appeal. This can be an additional income stream for condo owners.

Frequently Asked Questions (FAQs) about Yaletown Condos for Sale
1. Are Yaletown condos for sale expensive?
Yes, Yaletown condos are known for their luxury and high-end features, which often come with a premium price tag. However, the value and lifestyle benefits they offer make them worth the investment.
2. What amenities can I expect in a Yaletown condo?
Yaletown condos boast an array of amenities such as fitness centers, swimming pools, concierge services, spa facilities, and communal spaces for socializing and entertaining guests.
3. Is Yaletown a safe neighborhood to live in?
Yes, Yaletown is generally considered a safe neighborhood with a low crime rate. It has a vibrant community and is well-patrolled by local authorities, ensuring the safety and security of its residents.



4. Can I find affordable condos in Yaletown?
While Yaletown is predominantly known for its luxury condos, there are occasionally more affordable options available. However, it's important to note that the prices in Yaletown generally reflect the desirability and exclusivity of the neighborhood.



5. Are Yaletown condos a good investment?
Yes, Yaletown condos present excellent investment opportunities. The neighborhood's popularity, steady appreciation in property values, and high demand for rentals make it an attractive choice for investors.
6. Can I rent out my Yaletown condo on a short-term basis?
Yes, short-term rentals are allowed in Yaletown. However, it's important to familiarize yourself with the local regulations and any restrictions imposed by your strata or homeowners' association.
Conclusion
Yaletown condos for sale offer the ultimate blend of luxury, style, and convenience. With its unbeatable location, waterfront living, and an abundance of amenities, Yaletown stands as Vancouver's premier neighborhood for those seeking the pinnacle of urban living. Whether you are looking to invest or settle down in a vibrant community, Yaletown's condos are sure to exceed your expectations. Don't miss out on the opportunity to own a piece of this prestigious neighborhood. Start your search for Yaletown condos for sale today and embark on a life of elegance and sophistication.