High-Interest Rates Have Not Slowed the Labour Market Sufficiently
The Canadian labour market has done it again, blowing past expectations for the fifth straight month. In April, a whopping 41,400 new jobs were added, more than double what economists predicted. Since February, monthly employment growth has averaged 33,000, following cumulative increases of 219,000 in December 2022 and January 2023.
The employment rate—the share of the population aged 15 and older—held steady at 62.4% for the third consecutive month in April. This is particularly noteworthy given the population grew by more than a million people in 2022 and is slated to snowball this year, thanks to immigration.
However, there is a catch. All the job growth in April was in part-time positions, while full-time jobs decreased by 6,200. But even with this slight hiccup, the labour market is still going strong, which means the Bank of Canada will likely continue its wait-and-see approach, even as we all wonder when the first rate cut will happen.
The jobless rate held steady at a near-record low of 5.0%, unchanged since December 2022. This remained near the record low of 4.9% observed in June and July 2022. Compared with April 2022, the unemployment rate was down 0.3 percentage points in April 2023.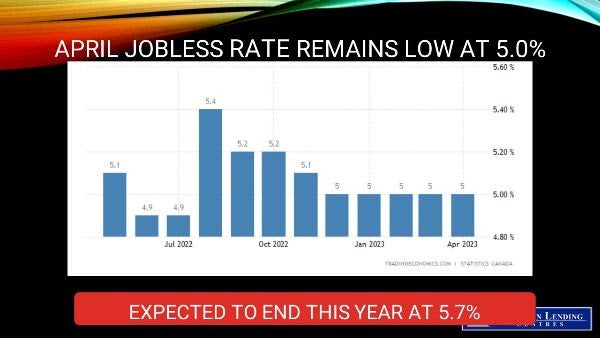 W
age Inflation Remains High
Of great concern to the Bank of Canada, average hourly wages rose by 5.2% on a yearly basis in a further sign of the labour market's resilience, with wage growth now above the annual rate of inflation, which was 4.3% in March. It is not that wage inflation caused the surge in the Consumer Price Index last year, but continued vigorous wage hikes become impended in wage-price spiralling as higher costs give businesses cover to rate prices.
Bottom Line

The BoC, despite this report, isn't likely to budge from its current policy stance. As more and more immigrants enter the workforce, the traditional markers of a strong jobs report are evolving. Even though the unemployment rate remains steady at 5%, it may indicate that we've hit a new equilibrium point. That's why this seemingly "surprising" report doesn't hold the same weight as it would have in the past.

In addition, the BoC can quickly point out the narrowness of sector hiring and the trend of full-time employment declining while part-time jobs rise. After today's release, the BoC's decision to stay on the sidelines is a wise move. But it also means that the Bank will not be in a hurry to cut rates this year.





Source - Dr Sherry Cooper - Dominion Lending