Canadian Labour Market Jeopardizes Rate Pause
Today's Labour Force Survey (LFS) for February was much stronger than expected, questioning how long the Bank of Canada's rate pause can last. Following the 150,000 jobs gain in January, economists expected a small increase of 10,000 positions and a jobless rate of 5.1%. Instead, the economy added 21,800 jobs in February, and the unemployment rate held steady at 5%, near a record low.
This marked the sixth consecutive month of job creation, taking the total employment gains since September to 348,000. Governor Tiff Macklem has repeatedly commented that the jobs market is overheated and surprisingly strong. The intention of his pause in rate hikes is to assess the impact of the cumulative rise in interest rates on the Canadian economy. While some sectors have slowed--housing, business investment and inventories--the labour market continues to churn out jobs, and job vacancies remain high.
Much of the job creation was in health care and social assistance. The number of vacancies in the industry has remained elevated as unmet labour demand moderated in other industries. Government employment also added to the hiring.
In contrast, employment fell in Business, building and other support services. Following a notable increase at the start of the year, employment was little changed in wholesale and retail trade. The number of construction workers was little changed, following two consecutive monthly gains in December and January.
Also troubling to the Bank of Canada was the rise in wage inflation. On a year-over-year basis, average hourly wages rose 5.4%, the strongest pace since November.
The unemployment rate held steady at 5.0% in February, just shy of the record-low 4.9% observed in June and July of 2022.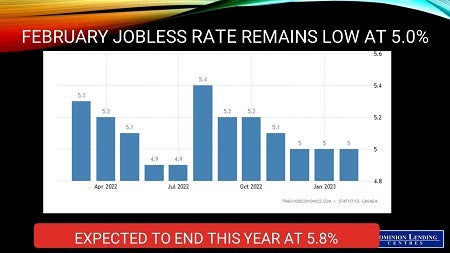 US Payrolls Also Top Estimates

With money markets assigning even odds to a rate increase of 50 basis points at the March Fed policy meeting, evidence of enduring labour strength would heap pressure on policymakers to persevere with jumbo hikes and make good on warnings that rates may need to be steeper and go on longer to tame inflation. US payrolls rose in February by more than expected while a broad measure of monthly wage growth slowed, offering a mixed picture as the Federal Reserve considers whether to increase interest-rate hikes.

The unemployment rate ticked up to 3.6% as the labour force grew, and monthly wages rose at the slowest pace in a year. Average hourly earnings climbed 4.6% from a year ago. That said, wages for production and nonsupervisory workers — which make up the majority of US workers and aren't in management positions — advanced 0.5% m/m, the biggest gain in three months and primarily driven by service industries.


Bottom Line

For the US, the employment gain was so far above expectations that it opened the way for the Fed to raise the overnight fed funds rate by 50 bps--despite several signs of softening in the report.

In this environment, the Bank of Canada will wait for the incoming inflation and economic data to assess their decision to pause rate hikes. No doubt, the Canadian dollar will be volatile. Policymakers view wage pressures running in the range of 4% to 5% as inconsistent with getting inflation back to the 2% target. Stay tuned.





Source - Dr. Sherry Cooper – Dominion Lending