Canadian Monthly Economic Growth (Q4'2022) 
Canadian real GDP declined 0.1 percent in December, the first monthly decline since January of 2022. The decline in GDP was concentrated among goods-producing industries (-0.6 percent) while services were flat. Canadian real GDP is now roughly 2.7 percent above its pre-pandemic, February 2020 level. Preliminary estimates suggest that output in the Canadian economy rose 0.3 percent in January.
Growth in the fourth quarter of 2022 was nearly unchanged from the prior quarter, following five consecutive quarters of positive growth. Declines in business inventories and business investment balanced out higher consumer and government spending and more favorable net trade. Housing investment fell 2.3 percent on higher interest rates, as with home renovations (-2.6 percent), new home construction (-1.4 percent), and ownership transfer costs (-4 percent). Overall, housing investment declined 11.1 percent in 2022. Business investment in non-residential structures, in contrast, rose 2.5 percent from the prior quarter, with higher investment in engineering structures driven by construction at LNG Canada's export terminal in Kitimat.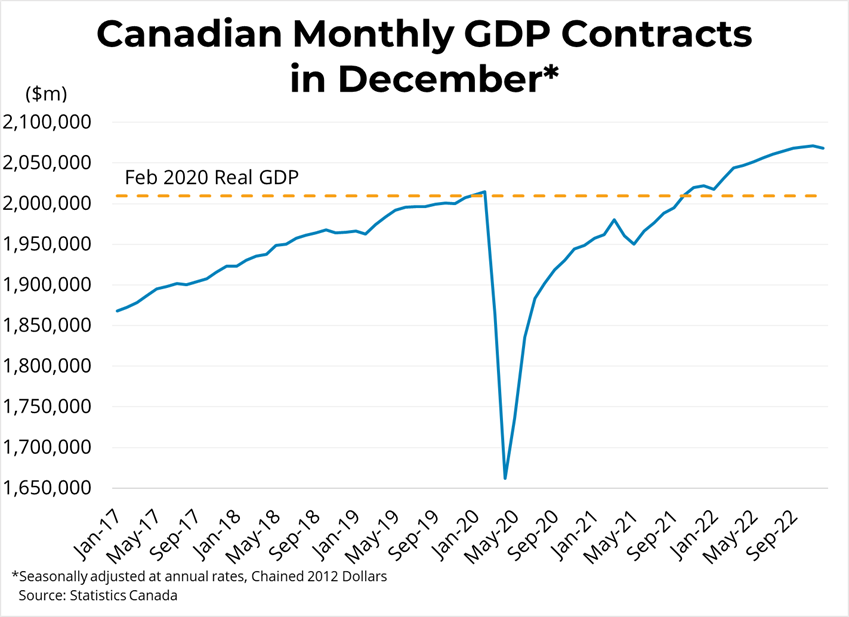 Flat GDP numbers in the fourth quarter continue to indicate a slowing in the Canadian economy. Growth in the fourth quarter was softer than expected, providing support for the Bank of Canada's decision to put a 'conditional pause' on further rate hikes as of January. However, with the overnight rate rising 425 basis points in under a year, growth is likely to remain sluggish in the coming quarters as prior rate tightening works its way through the economy.
Source - BCREA