Canadian Retail Sales (December 2022) 
Canadian seasonally-adjusted retail sales rose 0.5 percent in December to $62.1 billion. Sales rose in 7 of 11 subsectors but were led by higher sales at motor vehicle and parts dealers (+3.8 percent) and general merchandise stores (+1.7 percent). Core retail sales, which strips out gasoline and motor vehicle and parts dealers, rose 0.4 percent. In volume terms, sales rose 1.3 percent in December.
In BC, seasonally-adjusted sales fell 1.1 percent in December. Compared to the same month last year, retail sales were up 4 percent in the province. In the Greater Vancouver region, sales fell 0.9 percent month-over-month and were up 3.7 percent year-over-year.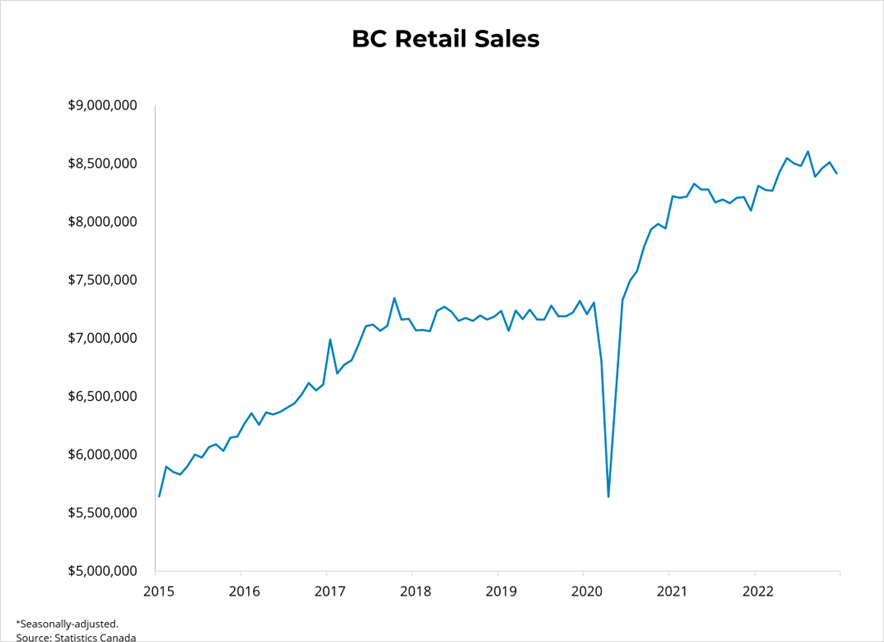 In December, Canadian e-commerce sales fell 1.6 percent to $4.4 billion, corresponding to 6.5 percent of retail sales. This percentage remains elevated relative to pre-pandemic levels but is lower than during the core months of the pandemic in 2020 and 2021.
Source - BCREA