Canadian Inflation (January 2023) 
Canadian prices, as measured by the Consumer Price Index (CPI), rose 5.9 percent on a year-over-year basis in January, a decrease from the 6.3 percent rate in December. Slower appreciation in prices of cellular services and passenger vehicles contributed to slowing the overall pace of price appreciation. Rising interest rates contributed to an increase in mortgage interest costs, which were up 21.2 percent year-over-year, the fastest pace since 1982, as Canadians renewed or initiated higher-rate mortgages. In contrast, the Homeowner's Replacement Cost, which tracks home prices, continued to slow, increasing 4.3 percent year-over-year in January. Month-over-month, on a seasonally-adjusted basis, prices were up 0.3 percent in January. In BC, consumer prices rose 6.2 percent year-over-year, down from 6.6 percent last month.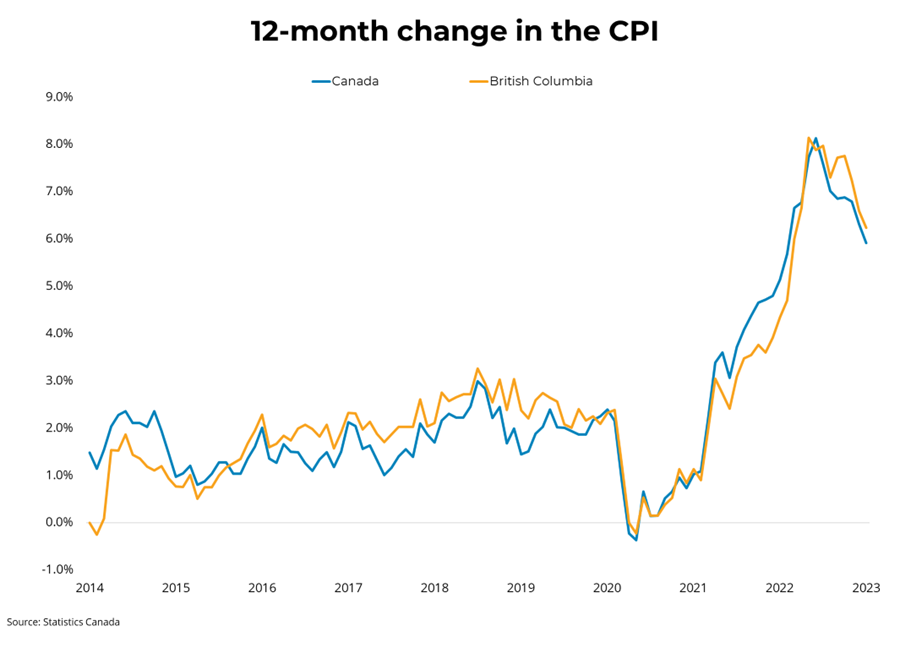 There continue to be encouraging signs that the bout of rapid price appreciation that began in January of last year is waning. Although gasoline prices were up from last month due to refinery closures, and food prices continue to rise quickly, unclogging supply chains are softening vehicle and durable good prices, pulling down the index. The Bank of Canada's measures of core inflation, which strip out volatile components, ticked downwards for a second month in a row. Although price appreciation may be moderating, it is still well above the Bank of Canada's 2 percent target, and while the Bank has announced a conditional pause on further rate hikes, they could change course if inflation does not continue to cool. 
Source - BCREA