Employment Report Ended 2022 With A Boom
Today's Labour Force Survey for December was much stronger than expected, raising the odds of a 25 bps increase in the policy rate by the Bank of Canada on January 25th. While the Bank has hiked rates by 400 bps to 4.25%, core inflation remains sticky, wages have risen by more than 5% for the seventh consecutive month in December, and Q4 GDP is running well above the Bank's forecast of 0.5%.
Employment rose by 104,000 last month, and the unemployment rate fell to 5.0%--just above the 50-year low of 4.9% posted in June and July. Indeed, the jobless rate would have fallen even further had the labour force participation rate not ticked upward as discouraged workers re-enter the jobs market when vacancies are plentiful. Employment rose the most for youth and people aged 55 and older.
Throughout 2022 the employment rate of core-aged women hovered around record highs. On average, 81.0% of core-aged women were employed, the highest annual rate since 1976 and 1.3 percentage points higher than in 2019.
Much of this increase has been among women with young children. On average, during 2022, 75.2% of core-aged women with at least one child under six years of age were working at a job or business, up 3.3 percentage points compared with 2019.
The increase in employment in December was driven by full-time work, which rose for a third consecutive month. Full-time work also led to employment growth for the year ending in December 2022.
Employment rose in multiple industries, notably construction, transportation, and warehousing.
Job gains were reported in Ontario, Alberta, BC, Manitoba, Newfoundland and Labrador, and Saskatchewan. There was little change in the other provinces.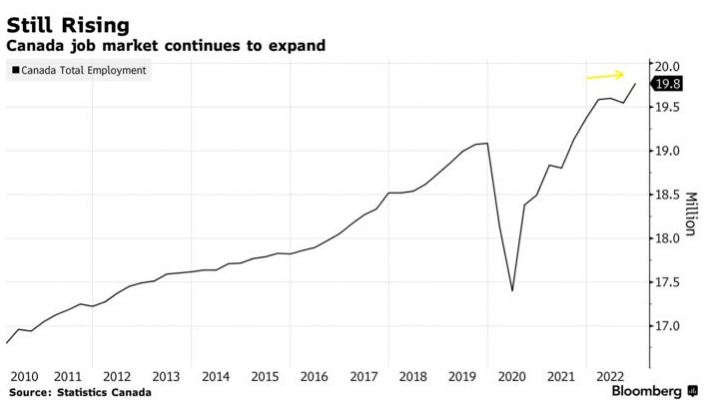 Bottom Line
The Canadian economy has also been boosted by strength in the US, where nonfarm payroll employment rose by 223,000 in December, and the unemployment rate fell to 3.5%, matching a five-decade low.

Governor Tiff Macklem and his officials have slowed down the rate hikes (from 75 bps to 50 bps) and signalled that future decisions would depend on economic data. Indeed, the most recent GDP and today's jobs report point to continued economic strength. The October and November gains in GDP suggest Canada's growth is holding up better than expected. The economy is on track to expand at an annualized rate of 1.2% in the fourth quarter, exceeding the central bank's expectations.

The December CPI report will be released on Jan 17, ahead of the Jan 25 Bank of Canada decision. That will be closely watched as well.

In other news, housing market activity continued to slow in December. Home sales plummeted in the country's largest metro areas by 30%-to-50% as buyers and sellers moved to the sidelines. Housing is the most interest-sensitive sector and has been slowing since the Bank began hiking interest rates last March.

Greater Vancouver led the way, with sales falling 52% year-over-year, while the Greater Toronto Area saw a 48% decline. Montreal followed with a 39% annual decline, whereas sales were down 30% in both Calgary and Ottawa.

Average prices continued to fall in most of the metro areas. The MLS Home Price Index benchmark is now down 9% year-over-year in the Greater Toronto Area. In Calgary, however, average prices remain nearly 8% above year-ago levels.





Source -  BCREA